Atlas Copco USA
Automan oil-lubricated aluminium piston compressors are solid, robust and reliable. They are designed for professional applications where they offer trouble-free performance even under demanding circumstances.
BelAire
Ideally suited for home use and construction applications, the BelAire Contractor Series provides affordable compressed air in a portable package. Low profile design, semi-pneumatic wheel, heavy gauge wire belt guard and rugged pump design provide the Contractor Series compressors with convenient point-of-use versatility. Models are available with electric or gas drive, delivering up to 25.3 cfm @ 100 psi.
Jenny
Established in 1927, Jenny Products, Inc. is a manufacturer of cold pressure washers, hot pressure washers, steam cleaners, combination units, cleaning chemicals, ventilation equipment, portable air compressors and stationary compressors. Jenny Products, Inc is a major influence in the paint, rental, equipment, and OEM markets.
MI-T-M
They employ the latest technology in laser cutters, ASME robotic welders, and 7-stage powder-coat paint systems. Their state-of-the-art facility spans over 850,000-square-feet and includes 13 production lines with 10 in-line quality testing stations. Because of their commitment to produce the highest quality product possible, their quality assurance team follows each part from the initial fabrication to final assembly. They work directly with component manufacturers to make sure they follow their strict requirements for quality.
Quincy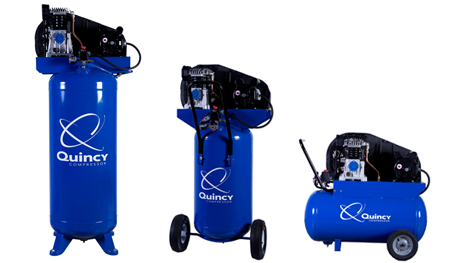 Quincy Compressor's portable air compressors offer industry-leading power and efficiency in a small package. They are an excellent choice for home/DIY use, while still delivering the power and reliability necessary for commercial applications. Backed by an industry-leading extended warranty option, Quincy portable air compressors are built for the long haul, providing excellent value in nearly any situation.
Rolair
As a third-generation manufacturer located in the heart of Wisconsin, they've built quite a reputation for providing professional contractors with compressors of the utmost quality and craftsmanship. They appreciate our attention to detail, rugged performance and wide variety of options. But above all, they appreciate that their sole focus is compressors - nothing else.
Some of the companies listed in this directory that produce tools here in America, may also have them manufactured in other countries as well. Many businesses alter their brand names, manufacturing practices and product designs with little or no notice, so if there are questions that still remain, we suggest contacting the manufacturer directly.